C L O S E
Please feel free to enjoy the coupon codes:
$10 OFF for orders over $99 Coupon Code: NY10
$20 OFF for orders over $199 Coupon Code: NY20
$30 OFF for orders over $299 Coupon Code: NY30
Find the place to apply the coupon code in the checkout page,
If you are visiting our site by cell phone, click" show order summary" to find the coupon area.
C L O S E
Coily Curly 13X6 Glueless Lace Front Wigs Indian Virgin Hair Pre-plucked Hairline[LW32]
Coily Curly 13X6 Glueless Lace Front Wigs Indian Virgin Hair Pre-plucked Hairline[LW32]
It is 18inches, 150% density on the mannequin head. Do you want the same texture in the headband wig? Check and search HW33.
As you can see from the pictures, the curls in this wig are not unified, we mixed 3C 4A 4B textures in this wig to achieve a more natural-looking. And pre-brushed, pre-defined to make it full and thick, 
Notice: The 3C 4A 4B textures are not in the specific area, if you repurchase this wig, you may notice there is a slight difference but still beautiful and natural.
● Perfect natural pre-plucked hairline 
● 6inches large parting space frontal, easily part it anywhere. 
● Free shipping & free gifts.
● Please allow 7 business days to process a beautiful wig for you.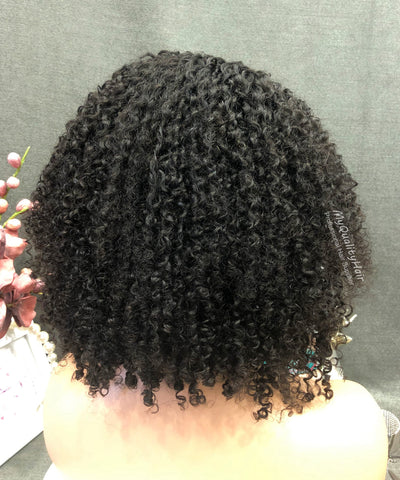 Nice wig
THIS IS AN HONEST REVIEW. This wig is everything I'd hoped for ! The curl pattern is gorgeous, the knots are small, the lace is pretty good, the curl pattern is gorgeous when wet and the curls are so soft and fluffy, not only that but the hair itself just feels so light and it installed perfectly. Will buy again.
Huge hair, but gorgeous
Beautiful, beautiful beautiful curls and coils! After a co-wash and texture ID curl cream the coils just clumped so nicely! Mirrors natural coily hair. It's really big, but did I say beautiful?
I got 16 inches and 150% density. 130% would've probably matched my own density better though
Great hair
I love this wig, hair is so soft and very thick, impressed with the quality, I will be ordering again!