C L O S E
The Biggest Sale Of The Year Nov.21 –Nov.29
$15 OFF for orders over $99 Coupon Code: Black15 + A pair of eyelashes
$30 OFF for orders over $199 Coupon Code: Black30 + A Detangle Brush & A Pearl Headband
$50 OFF for orders over $299 Coupon Code: Black50 + A 14inch Yaki Ponytail
C L O S E
Afro Kinky Curly(4B-4C) Glueless U Part Wig Indian Virgin Human Hair [UP05]
Afro Kinky Curly(4B-4C) Glueless U Part Wig Indian Virgin Human Hair [UP05]
U-part wig is a wig with a U-shaped opening at the front that allows you to blend your leave out or attach a closure. It's a great protective style that allows for endless versatility and will save you both time and patience.
U-part Wig gives you the freedom to remove them at night, take care of your natural hair and scalp.
★Major time saver: Ready to go wig, Beginner-Friendly
★Full protective style: No glue, No gel, protect your edges well
★Cost-effective: Last longer than lace wigs, much cheaper than lace wigs
We hear your voice: Combs and clips both available around the U part track, choose the one you prefer! (We add another comb/clip in the back of the track)
Tips: If feel the wig is bulky in the back, that means you left out too much hair. Rule of thumb: Always leave out about two fingers width of hair.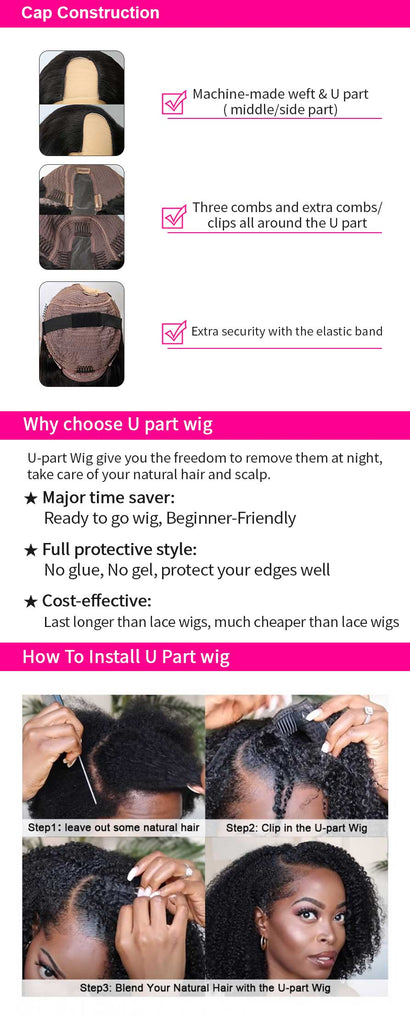 Very nice hair quality
I really love myquality hair ,come fast in delivery,and the hair is so natural you won't regret it if you order form this company.
Great Quality
The quality of the hair lives up to the name. This is my 2nd order and I am equally pleased with this order as the 1st.
Review of Afro kinky curly 4c-4b hair
The unit is specifically made to order. I received the item a bit slower than expected time but still with 14 days, so make sure you order in advance. The quality of the curls are fantastic and really mimic the 4c type hair making it easy to blend. The unit responded well when dyed, the curls retained the coils/curl pattern. I was able to create an ambre effect. The packaging blew me away, a beautiful pink box, and a sheer pink bag to store my unit. I received two hair nets, an attachable elastic band and an edge control brush as gifts!!! This unit is execeptionally great value for money! The reviews on youtube are
Justified and the unit I received reflected this. I awarded 5 stars I will definitely re-order again. Thank you "My quality hair" you have done an amazing job. Keep up the good work.😀